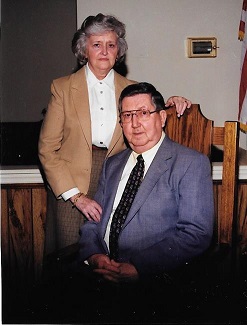 Brother Bill & Sister Mary DeRossitt
Brother Bill DeRossitt was born in Scott County, Kentucky February 4, 1928. His family moved to Fayette county when he was very young. He attended Lafayette High School, University of Kentucky and Lexington Baptist College. He was married to Mary Bowman DeRossitt for 52 years and had two children, eight grandchildren and eight great grandchildren. He was employed by U.S. Post Office until he went into the ministry full time. He was a member of Bryan Station Baptist Church were he was a Sunday School teacher, a deacon and taught in the nursing home ministry.
His first pastorate was the Penn Avenue Mission in Georgetown, Kentucky. Bryan Station Baptist Church was the missions sponsoring church. In 1968 the mission was organized into a church and called Bro. DeRossitt as it's pastor. The church was blessed with a church building and parsonage where he lived and preached for thirty-two years. On January 13, 2000 the Lord called him home.